This blog post is a result of me ranting to a colleague about vRealize Suite Lifecycle Manager (vRSLCM) not supporting deployment of the extra small vRealize Log Insight node. I do not know the official reason for this, but I guess it is because the extra small node is only meant for proof-of-concept and test deployments.
The reason for reducing the storage footprint on Log Insight is because it will eventually fill all its available storage space with log data. And using 500 GB of storage space in a lab environment is probably never desirable.
Use the Extra Small version of the appliance in a proof-of-concept or test environment, but not in a production environment. This configuration supports up to 20 ESXi hosts (~200 events/second or ~3GB/day) .

From the Log Insight documentation Sizing the vRealize Log Insight Virtual Appliance
During this spontaneous brainstorming session where I wanted to deploy Log Insight with a smaller storage footprint than default. We did a few tests and found that it was easy to achieve this as long as we don't use vRSLCM. Or could we?
| RESOURCES | MINIMUM REQUIREMENT |
| --- | --- |
| Memory | 4 GB |
| vCPU | 2 |
| Storage Space | 530 GB |
Extra Small Log Insight Deployment Requirements
This table shows default setup for the extra small node. In the next section I have listed the steps on how to choose your own storage size.
Deploying vRealize Log Insight with smaller disk size.
Deploying Log Insight appliance with a smaller disk size is supprisingly easy. Just follow these few steps.
Download the VMware vRealize Log Insight Virtual Appliance
Deploy it using vCenter «Deploy OVF Template»
Before you power on the VM remove Hard disk 2
Add a new Hard disk 2 with your desired size.
Power on the VM.
As you can see from the Live Storage picture, I don't get 100 GB of usable storage space so it is probably a good idea to give it more disk space than 30 GB.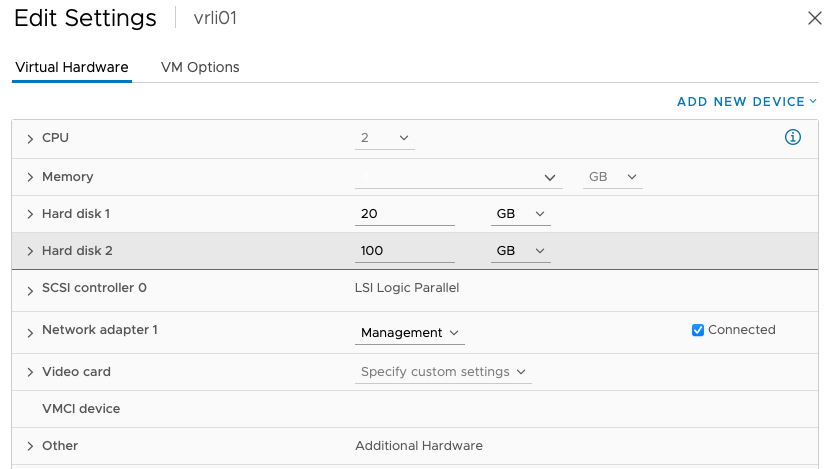 This is off course not a supported setup, but it can be a good solution for reducing the size of your vRealize Log Insight deployment in a lab or for other testing purposes.
Deploying vRealize Log Insight extra small node with vRSLCM
There is probably not many use cases for this way of doing it, but that doesn't mean we should test it. So here is a few of the questions we asked ourself and tested before we found a solution.
| Question | answer |
| --- | --- |
| Can I deploy vRealize Log Insight extra small node with vRSLCM? | No |
| Can i deploy small node using vRSLCM and then change storage size later? | No (no option to stop autostart of VM) |
| Is the Extra small setup having a smaller disk than the small appliance? | No |
| Can I deploy vRealize Log Insight manually using downloaded ova and reconfigure the VM with a smaller disk? | Yes |
| Can do a switcheroo? Delete VM deployed by vRSLCM before the process realizes that the VM is available and deploy an extra small node using method described previously? | Yes |
This is the steps needed
Deploy small vRealize Log Insight node using vRSLCM.
Power off the VM as soon as it is powered on by the deployment.
Delete the VM.
Follow the manual deployment procedure in the section above. Make sure the settings is identical to the ones used with the vRSLCM deployment.
When the new VM is powered on, vRSLCM will continue with its deployment steps and should complete successfully.

Im not sure of the timeout limit in vRSLCM but it was long enough for me to do the deployment without failing. And if it should stop with a failure, my guess is that you can click retry and it will continue.
Another option that is probably also possible is to deploy Log Insight manually in and then import it into vRSLCM later, but I have not tested this.
References
Sizing the vRealize Log Insight Virtual Appliance
Minimum Requirements
How To Deploy Log Insight With Less Than 500GB Of Storage